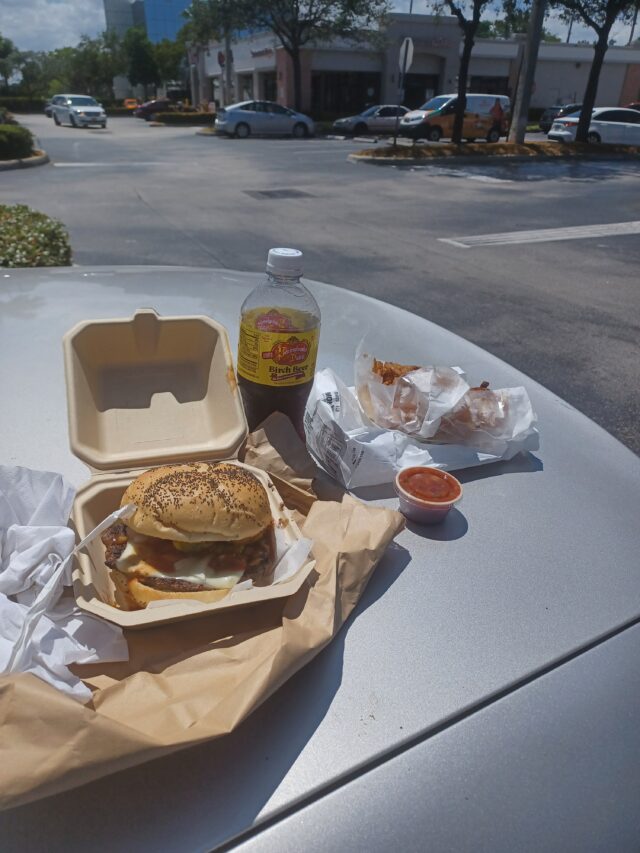 Deerfield-News. com-Deerfield Beach, Fl-One of my longtime burger joint favorites in South Florida is Char-Hut. Char-Hut started out in 1976 and been a staple in South Florida burgers. dogs chicken and more charbroiled. my first char Hut was in 1976 on Commercial Boulevard and 441 inside of an old Pizza Hut. My grandparents liked the hut too, so whenever I was down from New Jersey visiting Char-Hut was a must.
Not too many places left from 1976 Char-Hut again back in the hands of the original family is one of them. I am glad Char-Hut has kept its Commercial Boulevard location now east between 6th Ave and Dixie on the North side of Commercial Boulevard.
My stop was for the usual charburger on the poppy seeded kaiser roll, an order of frings a combo of fries and rings, and a birch beer.
The Char Hut did not disappoint my burger with the hot sauce and onions and pickles were as good as ever.  We did the trunk top taste test and review the video is here on Facebook. On the Dave  Portnoy scale, this place is a solid "nine" on the burgers. The frings were as good as the last time I was there which was too long ago! remember anything over an 8 is worth the drive