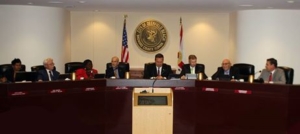 Deerfield-News. com-Deerfield Beach, Fl-With city elections being held this Tuesday, March 9, we thought this post was appropriate for today.
Voting in March is voter suppression, both Democrats and Republicans in Deerfield Beach should hang their heads in shame. Why, do we vote in March and not on election day for city officials?. While most Democrats will be quick to blame Republicans for wanting to make it as difficult as possible to vote by mail especially after this past election day. The truth is locally both parties are to blame voting in March is voter suppression. Voting in March is just stupid and certainly, the turnout and numbers of voters prove that.
For Americans to not vote on national election day for local officials runs contrary to everything the term get out the vote means. That is a fact Deerfield Beach citizens need to change  and change it now. The numbers speak for themselves. We have elected city officials including mayor Ganz, who is now running unopposed with minimal voter turnout. Deerfield Beach citizens need to change this, voting for city officials belongs on the ballot in November when the turnout is much much higher. No city official should be elected with five or six hundred votes in a city of 80,000 people. Our elected officials control a budget of nearly 200 million dollars a year and make decisions that affect all of our lives. Certainly, city officials should want there to be the highest amount of voters voting in an election,not the least amount of voters.
These were the election results from our last city election. Our city has grown by leaps and bounds, we are not getting enough voter turnout the way city elections are now held.
The vote for Deerfield Beach Mayor had roughly 6000 voters in total, for city commissioners the numbers of voters were under 2000 per district. For a city of 79,000 plus according to census.gov we can do a lot better in voter turnout if we voted on the same day we vote for all other elected officials.
The following is from www.census.gov
Population-Deerfield Beach
Population estimates, July 1, 2016, (V2016) 79,764
Population estimates base, April 1, 2010, (V2016) 75,018
100% of Precincts Reporting
Votes Split
William Ganz 2,327 38%
Walter Kenneth Wayne 1,575 26%
Gwyndolen Clarke-Reed 1,131 18%
Benjamin Preston 977 16%
Deerfield Beach District 3
100% of Precincts Reporting (7/7)
Votes Split
Bernie Parness 552 41%
Richard Rosenzweig 521 39%
Caryl Berner 244 18%
Deerfield Beach District 4
100% of Precincts Reporting (5/5)
Votes Split
Todd Drosky 930 63%
Joseph Hines 385 26%
Robert Durham 142 9%
Infographic from Deerfield Beach Solutions-