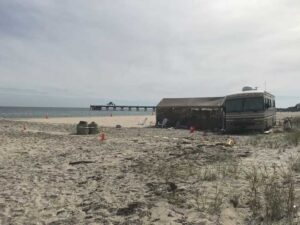 Deerfield-News.com-Deerfield Beach, Fl-In the ongoing legal saga of landowner vs government Sunshine Clothier got some local TV coverage this week. Clothier who owns a piece of Deerfield Beach frontage has her RV parked there and resides on her property. While many have their opinions on the situation of the RV being parked on the sand, which is Ms. Clothiers. There are not many more "American Dreams" then a person's right to own real property especially beachfront if you can get it. All Americans are entitled to their rightful real estate and legal inheritances. Several disgruntled neighbors do not like that RV and call it an eyesore. Some spoke to the press and somehow wish it would all just be gone.
According to WPBF Clothiers attorney Robert Sweetapple says the city needs to come up with $500,000 for Ms. Clothiers tract of land."She understands that this should be owned by the public, and soon I hope the public will be able to convince their elected officials to find the money to preserve this for the public, and if not, she will continue to use it," says Sweetapple.
Well, there is a solution to pay her, her price. Seems to me Clothier by virtue of possession of the land has the legal upper hand. Had the city been able to get injunctive relief they would have a "Temporary Restraining Order" already forcing Ms.Clothier from her land. Anyone that understands injunctions knows the party seeking one has to demonstrate a "Likelihood Of Success On The Merits", which Deerfield apparently can not or could not do.
Everyone knows our city has pissed away a lot more than 500k for things not worth 10k. So Deerfield Beach Commissioners and Mayor Ganz do the right thing already and have Andy Maurodis solve this by reaching an agreement.